Delivering mobile tickets with MMS messaging enables ticketing companies to send digital tickets directly to a customer's phone without downloading an app.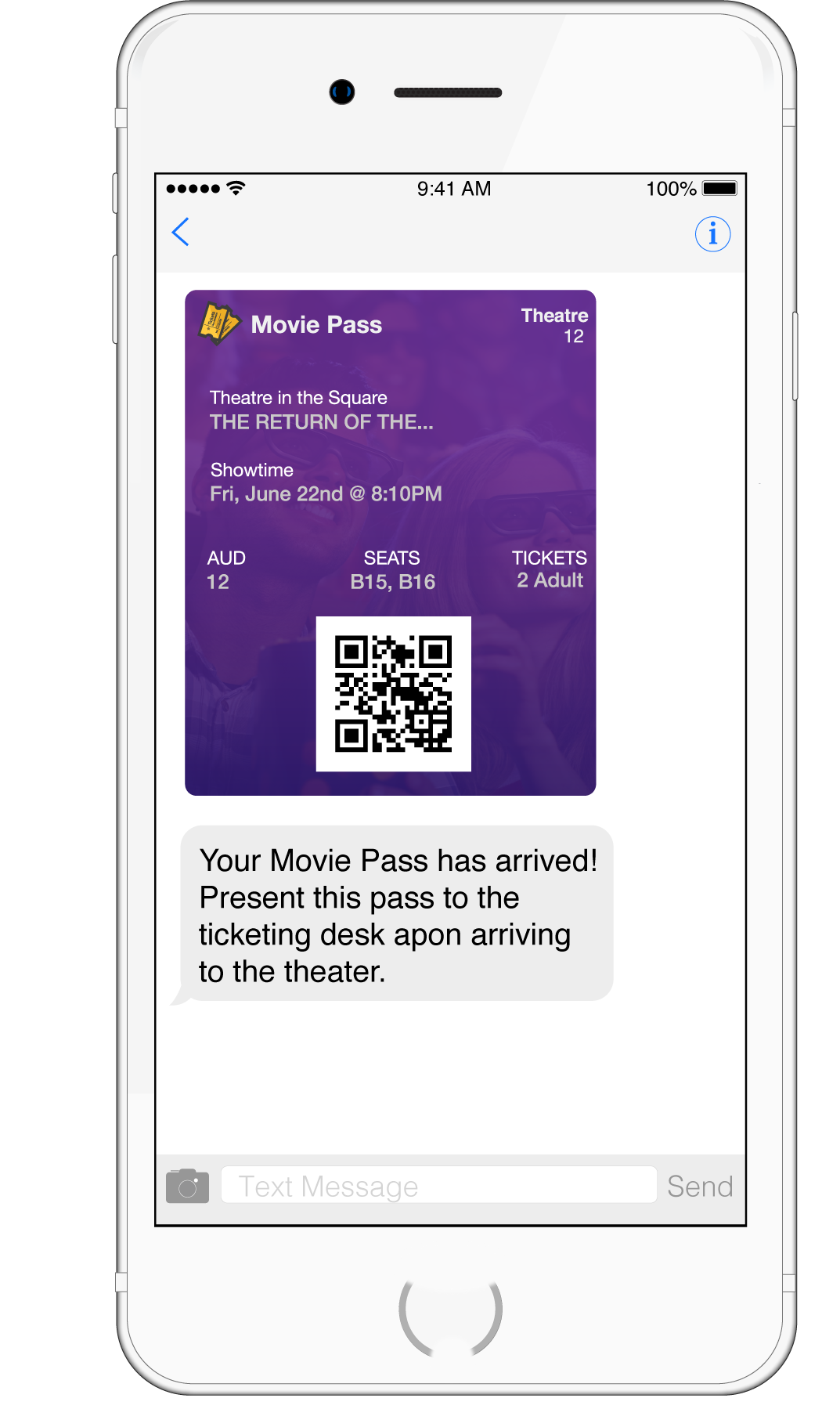 Send mobile tickets using MMS messaging technology
Mobile tickets can be sent to any mobile device through MMS messaging. MMS messaging allows for video, text, and images to be sent to any mobile device. MMS messaging enables ticket sellers to create dynamic tickets that can be sent to customers' mobile device and therefore they do not have to develop an app.
Why ticketing companies should add MMS messaging technology to deliver mobile tickets
Mobile ticketing enabled with MMS messaging technology sends tickets directly to customers' text messaging inbox. Messaging is already installed and everyone knows how to use their text messaging app. Customers view their text messages more frequently than any mobile app. Therefore, mobile ticketing can potentially reach more customers than a stand alone mobile app.
Why customers may prefer to be messaged their mobile tickets over in-app ticket delivery
Customers may experience troubles when trying to use or share their mobile ticket through an app.
Customers may not want to download an app in order to use their mobile ticket
Customers may want to share a ticket without having to share the app.
App installation and registration can take time to complete.
Not all apps function on older smartphone operating systems.
Customers may not want to keep the app on their phone or use data
Challenges for ticketing companies when building an app for mobile ticket delivery
Ticketing companies that want to generate mobile tickets within an app must plan for the challenges and costs related to mobile app development. Building an app cross-platform (iOS / Android) is time-consuming. The cost of development resources required to build and maintain cross-platform mobile apps is high. Mobile device operating systems are continually upgraded resulting in constant maintenance and developer involvement. Customers expect more features from a mobile app than a mobile website, such as:
Customer support
Event Content
Venue/Seat information
Future event listings
Sharing/Inviting
We make sending a mobile ticket easy
Our MMS technology sends dynamically generated ticket images with scannable barcodes directly to their customers' message inbox without using an app. Learn more about Skycore's mobile ticket delivery technology.