Digital Coupon Delivery
Send digital coupons to your customers' phones without needing a mobile app. Our platform enables you to create, personalize, and deliver digital coupons through text messaging.
Designing Your Digital Coupon
Our customers create eye-catching coupons with our personalized images tool. They upload a background image and overlay a unique barcode and personalized text. We support a wide variety of barcode types so that our platform is compatible with your current coupon scanning system. Digital coupon images will work on all phones no matter what operating system your customers have. Unlike plain text coupons, image coupons can be saved, forwarded, or used later from the photos folder or the messaging app.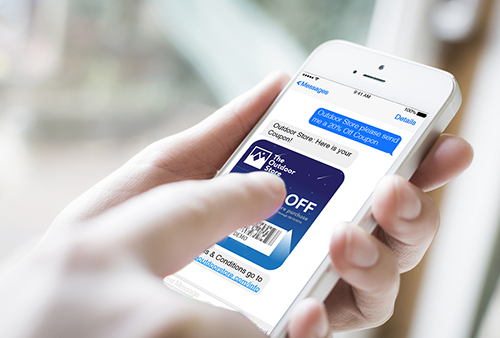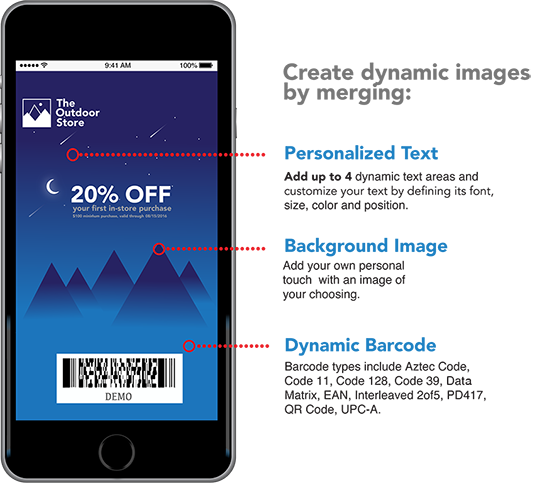 Personalizing Coupons
Our digital coupon solution enables you to create coupons with a unique barcode per message. You can create one-time use coupons for each customer or a single coupon for multiple users. If you allow multiple uses of the coupon per customer, you can monitor how many times each customer is redeeming it easily. You can also add personalized text to your coupons even if the coupon code is static. This text can be customized for specific customers or used to customize things like the expiration date or offer amount.
Sending a Coupon
There are three methods that can be used when sending a coupon. After your customer fills out a form, you can send your coupon as a bulk message or as a response to a 2-way chat conversation.
Send Coupons upon Opt-in: Asking new customers to opt-in or fill out forms and offering digital coupons in exchange is a great way to build your list. The coupon will be triggered to be delivered after the customer completes some action.
Send Coupons in Bulk: Sending coupons in bulk to opted-in users is a great way to keep them engaged with your brand and encourage future purchases. Bulk coupon messaging can be personalized and segmented to be delivered to the right people at the right time.
Send Coupons as a 2-way chat conversation: With our digital coupon solution, you can engage with your customers by asking a question. Once customers reply, you can automatically send them the appropriate coupons based upon their responses.