Background
Paperless ticketing (i.e. tickets displayed on a mobile phone) offers advantages to consumers and ticket vendors – and protects the environment, too!  Paperless tickets significantly improve consumer convenience – no more printing tickets at home and no more lost or forgotten tickets.  For ticket vendors, paperless tickets not only reduce (or eliminate) printing, mailing and will call costs but also present unique interactive marketing opportunities.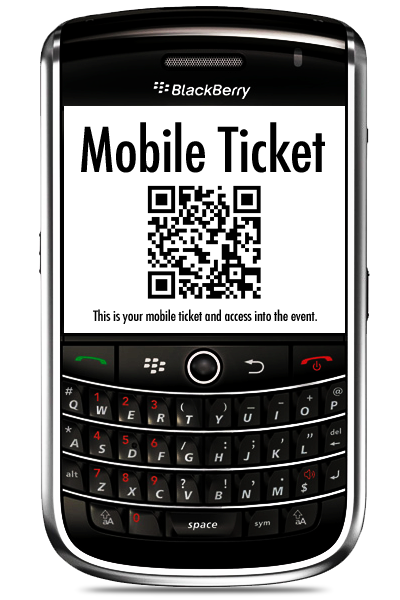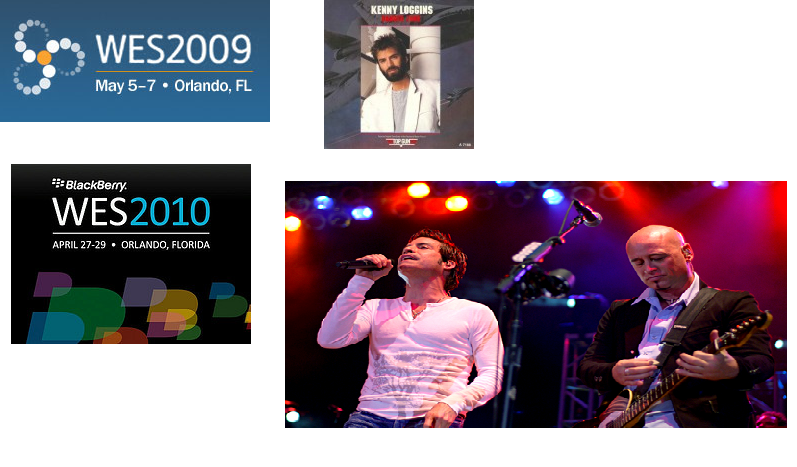 Challenges
For the Research In Motion's WES 2009 Symposium, AT&T Wireless needed a ticketing solution for their Concert 'Top Gun' VIP Bash, starring two-time Grammy award winner and 12-time platinum recording artist Kenny Loggins at the House of Blues Orlando, Florida. [WES 2010 update: recording artists Train performed at the Hard Rock Café.] AT&T wanted to demonstrate the advanced capabilities of their mobile devices at this premier BlackBerry event by delivering tickets to guests' mobile phones. They required the tickets to be tracked in a fast, efficient, and secure way. Each mobile ticket had to allow only one person's entry and the redemption of forwarded tickets (i.e. duplicate tickets) needed to be prevented. To develop such a ticketing solution, AT&T appointed Skycore LLC, a mobile value added service provider (VASP) specializing in network centralized mobile multimedia delivery technologies and applications.
The ticketing solution consisted of the following challenges:
(1) Generating mobile tickets that were unique to each person but did not give away any personally identifiable information that would pose a security threat to AT&T's guests.
(2) Facilitating fast and traceable delivery and validation of tickets in real-time.
(3) Preventing unauthorized duplication and redemption of mobile tickets.
(4) Delivering a mobile ticket that could be adapted and readable on almost all of the guests' mobile devices.
(5) Developing a quick to implement, cost-effective, and comprehensive solution that would appeal to its guests.
Solution
Skycore LLC used its platform in combination with codeREADr's capabilities to develop a paperless ticketing solution to meet AT&T's objectives. The Skycore platform was used to create and deliver barcode 'tickets' with associated multimedia content to each guest's phone. The codeREADr platform, for its part, was used to validate the authenticity of each paperless ticket using nothing more than the BlackBerry's camera as a scanner, the codeREADr app to read the barcode, and the codeREADr web services for validating the barcode data in real time.
Skycore's solution involved generating a unique ticket ID for each guest and delivering it to their mobile phone in the form of a unique 2D barcode. The barcode was embedded with data that could only be known and validated by an authorized BlackBerry device with the codeREADr app installed. The ticket was encrypted and tracked in real time, preventing the redemption of invalid or duplicate tickets. Each ticket was delivered via an MMS message to the guests' phone and email address. Guests were admitted into the event simply by presenting the barcode ticket on their phone to the access control personnel who scanned the barcode using their BlackBerry devices with codeREADr app.
The barcode's content was read by the app and securely transmitted for validation and confirmation over the 3G network to the codeREADr servers. The tickets were quickly validated (1-2 seconds) through the unique identifiers embedded within the mobile ticket's barcode.
Results/Benefits
With the successful distribution and validation of paperless tickets for AT&T, Skycore's mobile ticketing solution received excellent feedback from both AT&T and their guests, many of whom are top mobile executives in industry and government. The solution provides the following benefits:
(1) It ensures fast, efficient, and secure paperless ticket delivery and redemption.
(2) It leads to lower operating costs for ticket vendors.
(3) It improves customer convenience and satisfaction while attaining environmentally green goals.
(4) It also provides vendors with opportunities to send follow up messages to their guests, such as detailed event information and discounts.
Skycore's paperless ticketing solution can be applied to market areas including sporting and entertainment events, cinema, transportation, and facility access. The solution can be integrated into many different host systems and implemented into other applications involving barcodes, such as mobile marketing and mobile coupons.
The possibilities surrounding Skycore's paperless ticketing system platforms are virtually limitless. Please contact us so that we can help you customize your preferred solution. For further information or to reach a representative, please email bizdev@skycore.com.