TEXT MESSAGING & MOBILE WALLET
Digital Player Engagement Solutions for Casinos
August 25, 2022 • 10 min read

Text Messaging Player Engagement
One of the biggest issues casinos face is how to engage with and retain players. Through text messaging, casinos will be able to drive more foot traffic, chat with players and guests directly on their phones, and enroll players in player's clubs. Casinos currently drive foot traffic by offering free parking, lodging, food, event tickets, or discounted rooms through email or direct mail. Text messaging is a much more effective way of letting players know about their non-gambling-related offers since text messaging has a better engagement and open rate compared to email. Non-gambling offers are essential for casinos to differentiate themselves from other casinos that offer similar gambling options. Players are more likely to come back to a specific casino if they feel welcomed and are reminded often on their phones. Text messaging provides a direct line of communication for casinos to promote the non-gambling incentives they are already providing through email. Casinos can then send additional text messages to personalize each player's visit and get feedback on how their visit is going or could be improved. SMS can also be used to acquire player's club members easily by enrolling players directly from their phones. By sending a series of questions to each potential new player, players can enter all of the necessary information to enroll in a players club. Questions can include age-gating and state-gating measures to ensure that everyone signing up is of age to gamble and obeys the state laws.
Text Messaging Features
2 Way Text Chats
Use 2-way chats to ask questions to collect player data and send custom replies based on their answers. All of the collected player data is available to view online.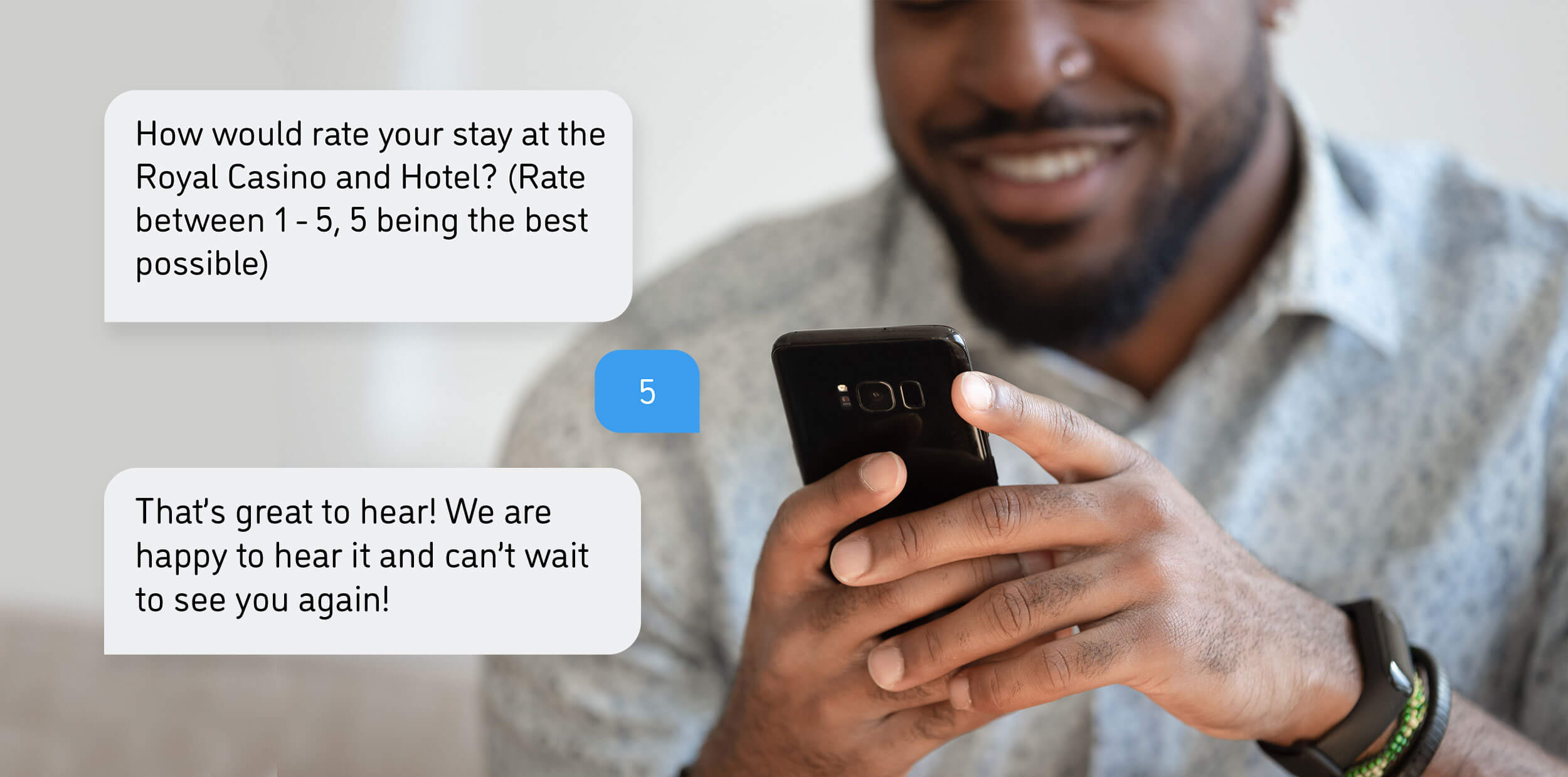 Schedule Bulk Messages
Messages can be scheduled based on a certain day and time and can be sent in bulk to players or to smaller segmented groups of players.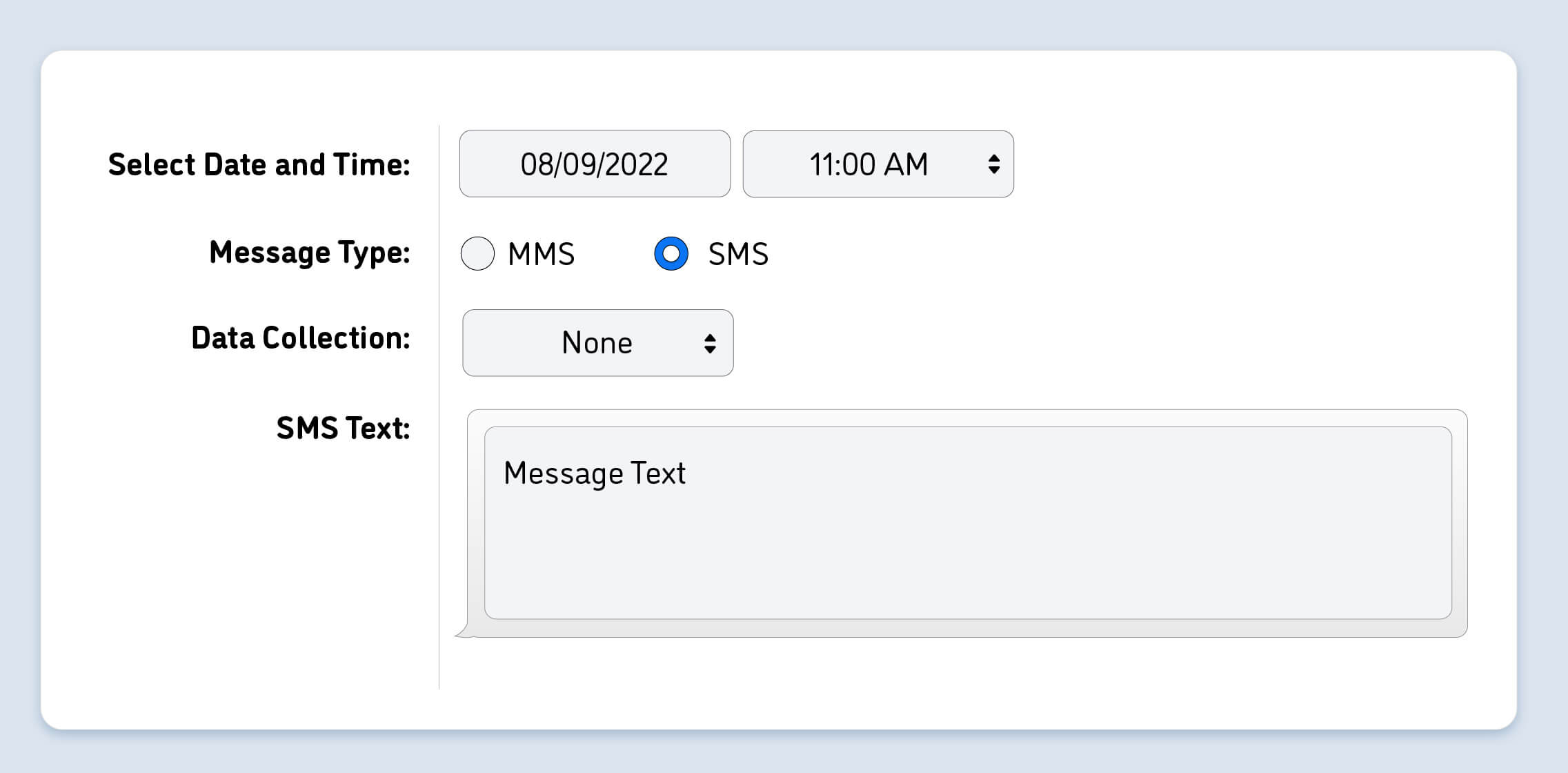 Unlimited Keywords
Setting up keywords enables players to text a keyword to a short code to receive preset, automated messages from the casino.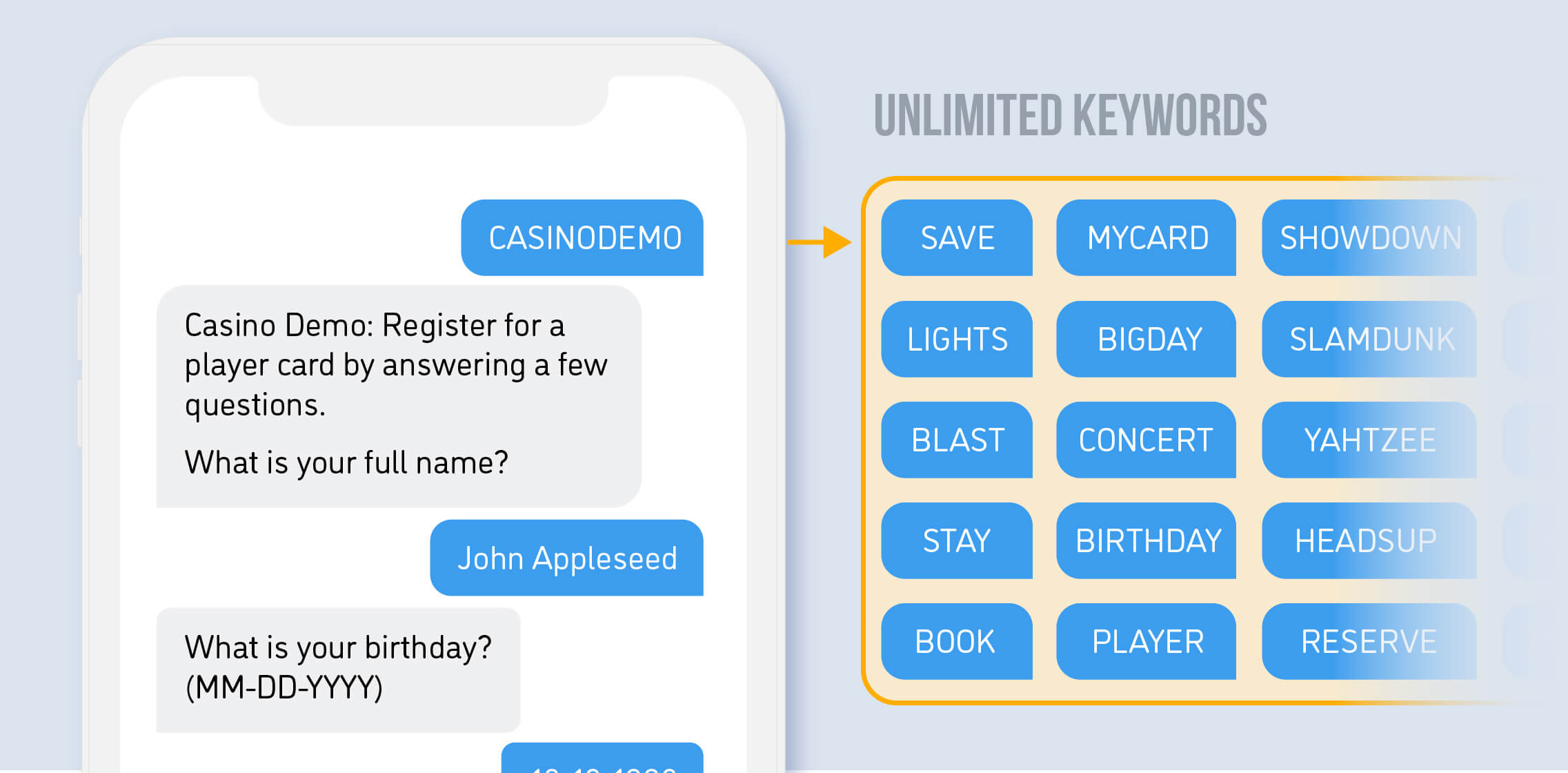 Messaging Inboxes
Casinos can view and export all of the messages players and guests have sent in and respond directly to messages if needed
Benefits for Casinos:
Acquire new players directly from their phones without them having to visit a website to fill out a web form
Create stronger affinities between players and your casino by texting them their non-gambling related incentives
Engage with the younger generation who use their phones more than any other medium
Retain players with personalized offers sent directly to their phone
Improve the player experience by sending surveys or polls via SMS after they visit
Mobile Wallet Player Engagement
Casinos can use mobile wallet tools to better engage with their players by issuing digital player cards, non-gambling-related vouchers, or event tickets. While SMS is a great way to instantly issue player cards, cards can also be issued via email, apps, or web pages. Digital cards can be saved in Apple Wallet and Google Pay apps and are always accessible, even offline. Digital player cards are especially beneficial to casinos to interact with players through notifications sent right to their device screens. Another major benefit of digital player cards is that they are more cost-effective compared to printing thousands of physical cards.
Mobile Wallet Features
Customize Card Designs
Create templates and design the layout and other visual aspects on the card using a dual template builder for Apple Wallet and Google Pay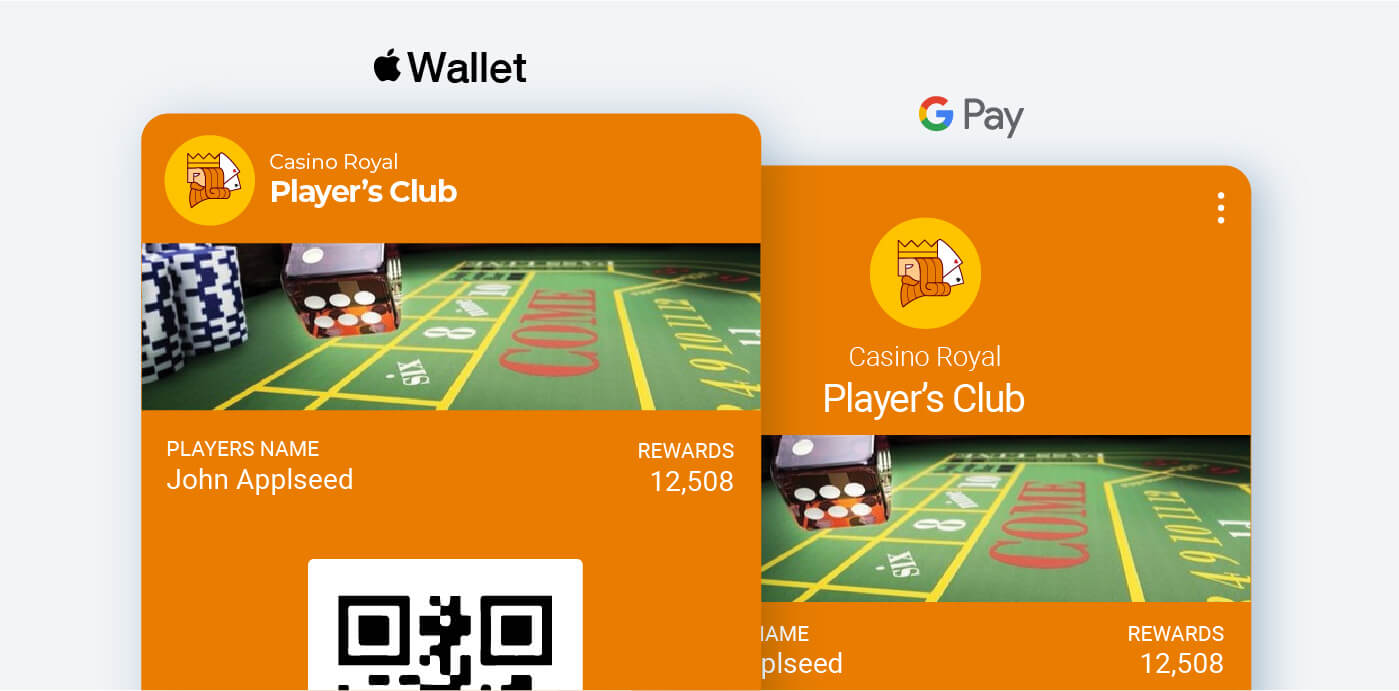 Create Unique Player Cards
Personalize player names, point values, rewards values, player statuses, player IDs, barcodes and images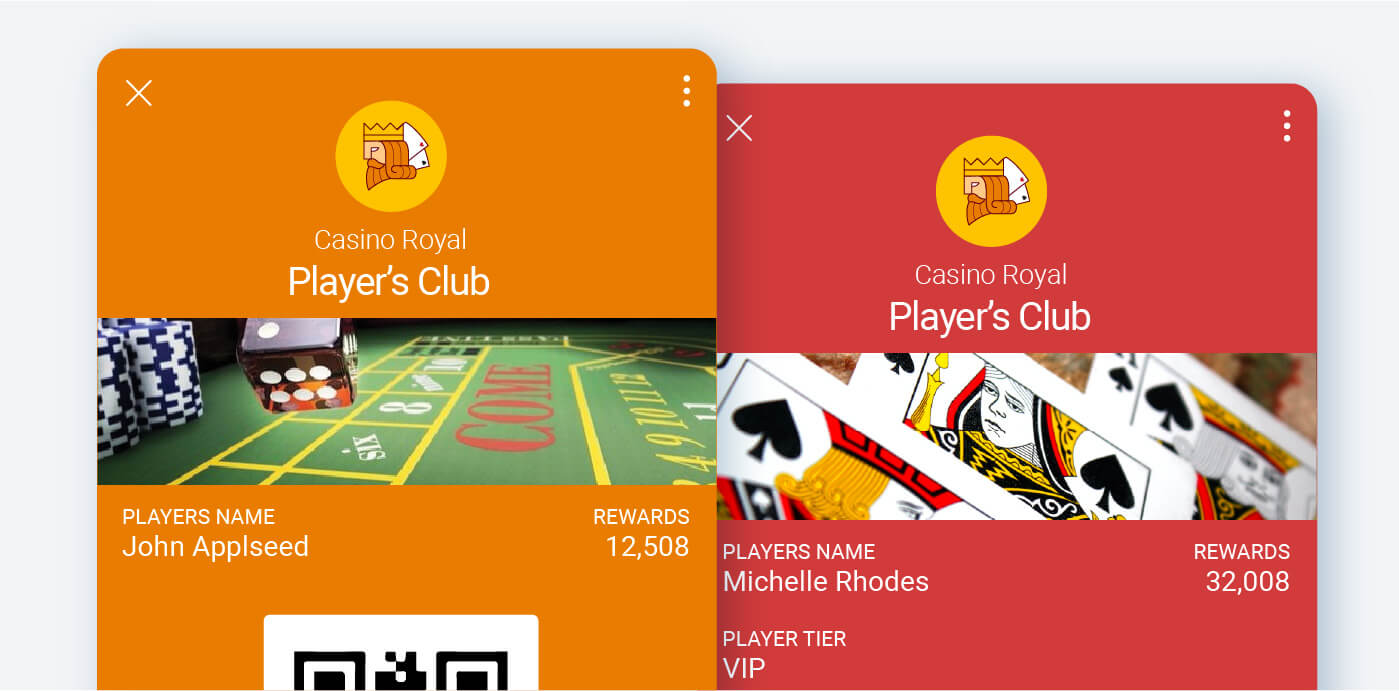 Push Notifications
Send personalized or bulk notifications to users that are displayed on the players device screen for things such as special events or promotions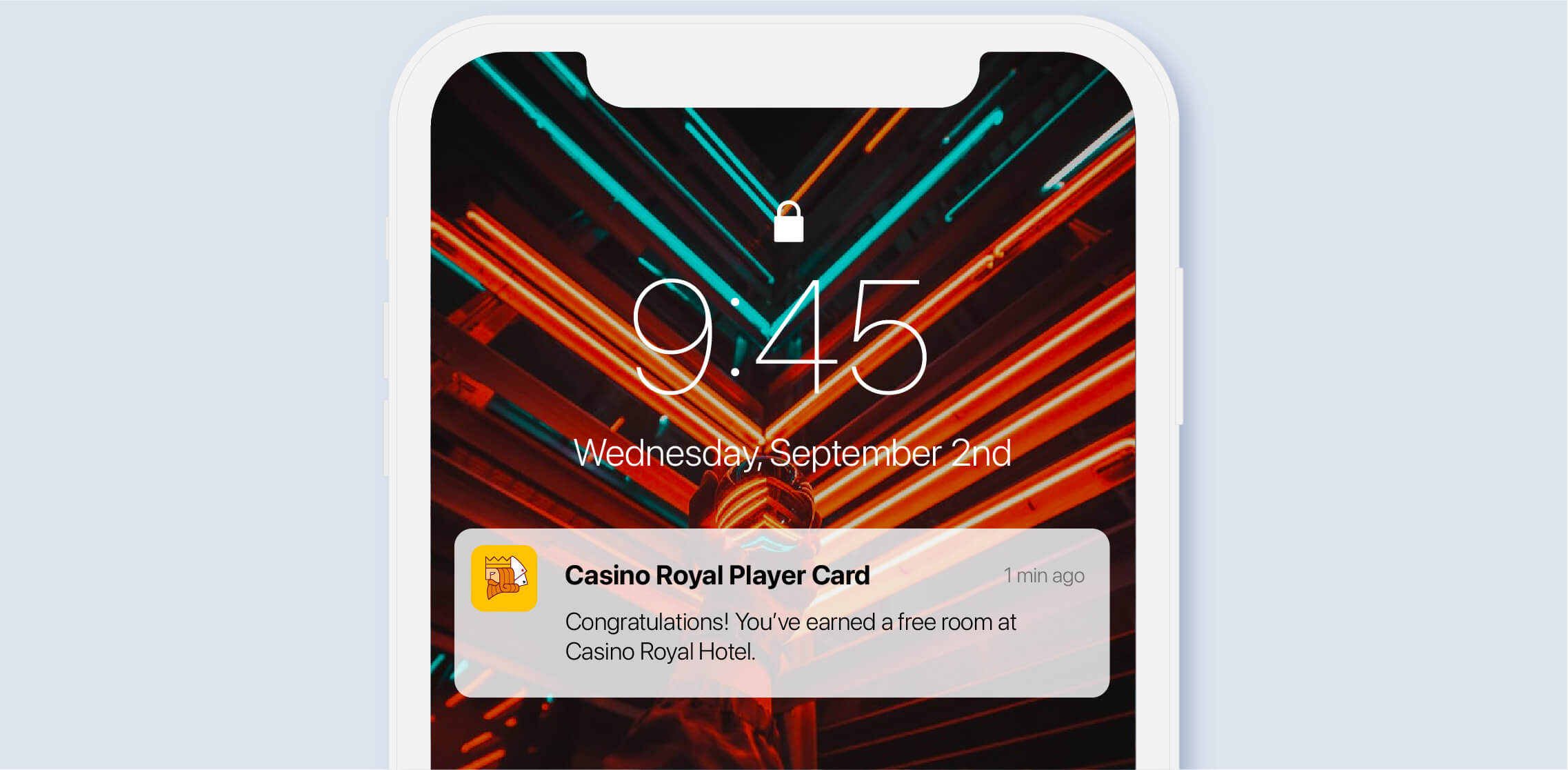 Location-Based Notifications
Set geo-fences to display a specific message to each user when they are nearby the casino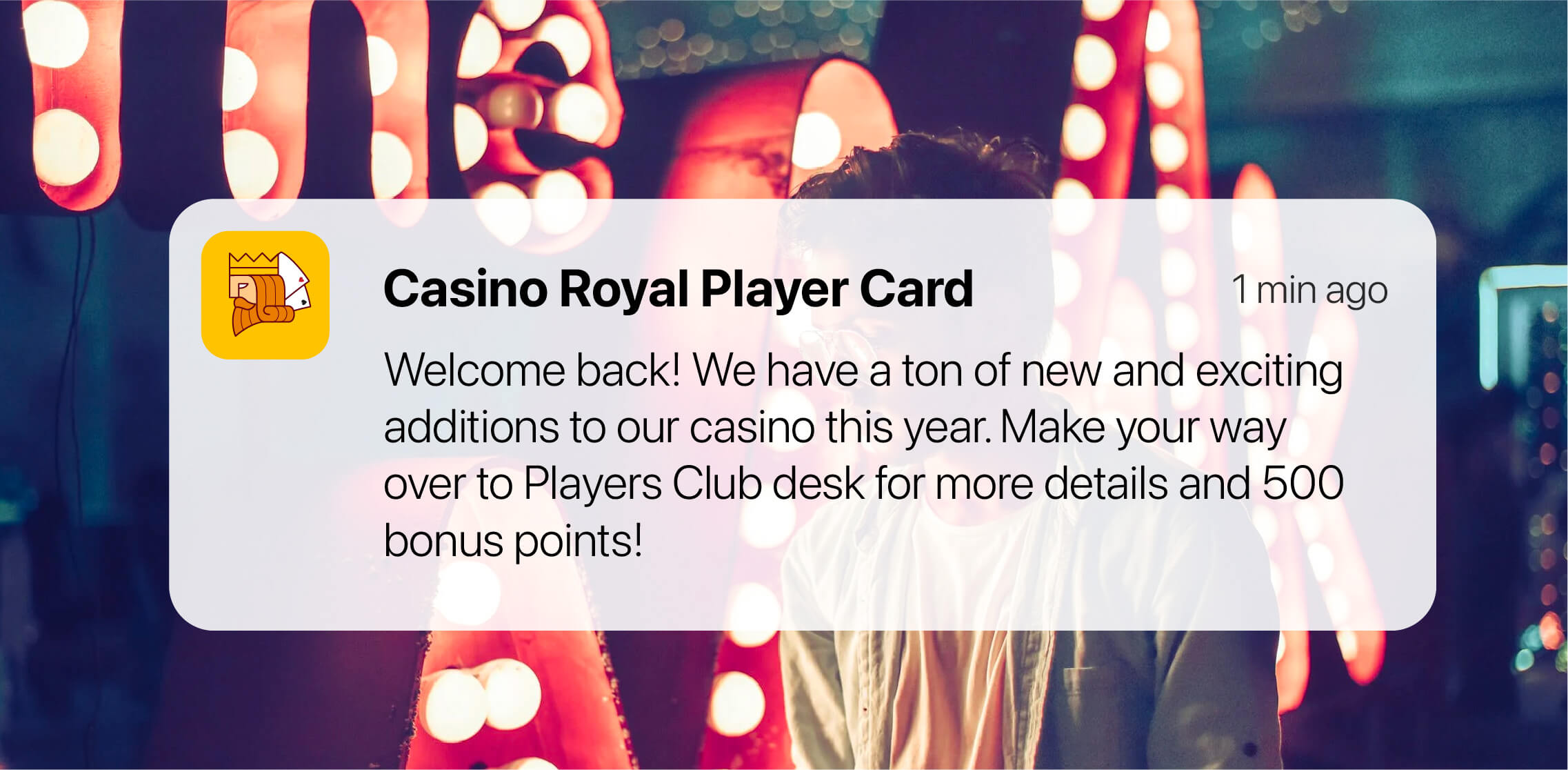 Link Mobile Apps
Mobile apps can be linked to player cards and are displayed as a clickable icon on the player card
Disable Card Sharing
Prevent players from sharing their digital card with other players by disabling card sharing
Reports & Analytics
View stats on player card utilization by seeing how many cards are installed vs uninstalled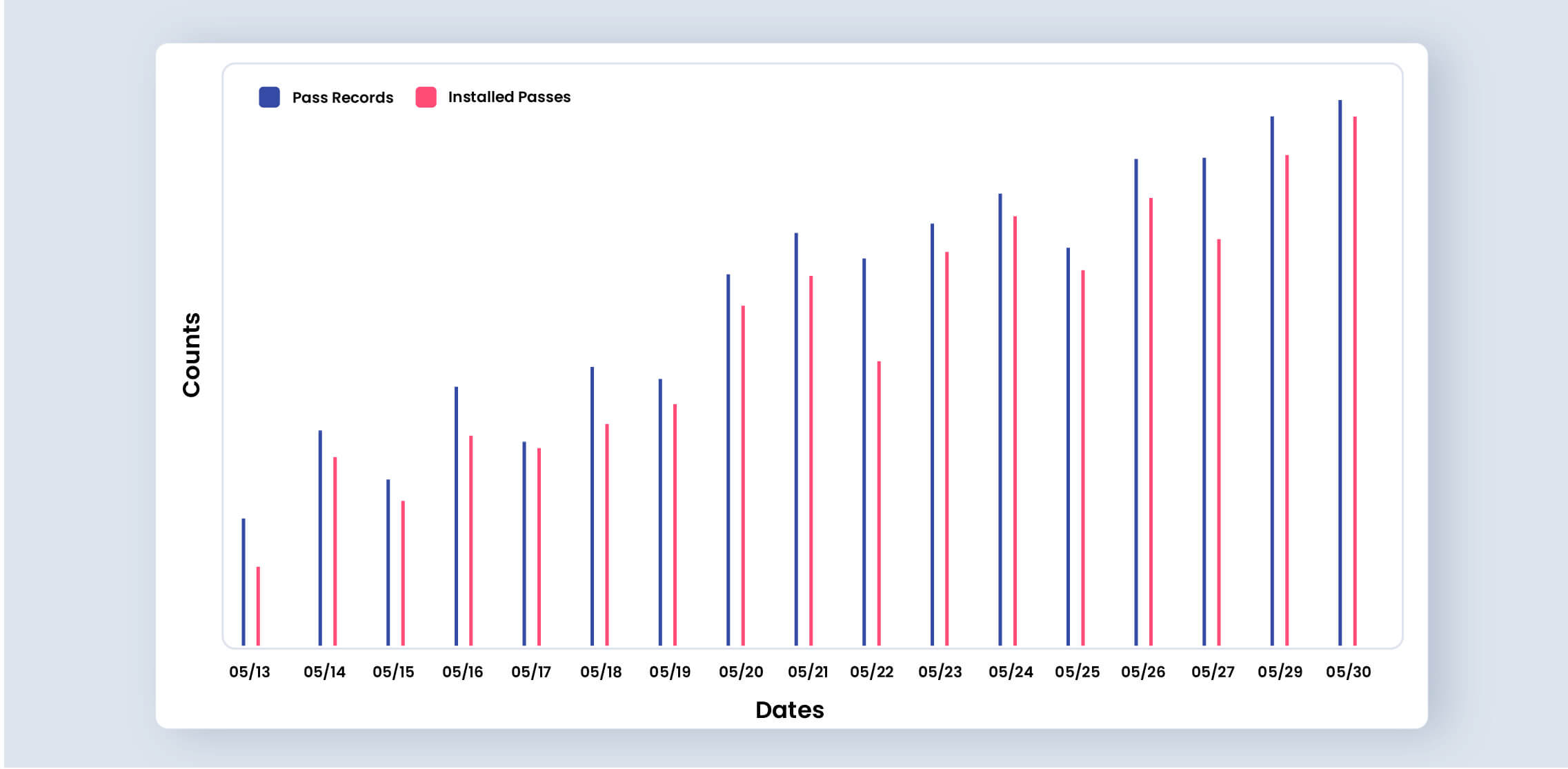 Benefits for Casinos:
Eliminate the cost of printing and reprinting player cards when a player forgets to bring their card with them
Utilize a scannable barcode on each card to track player activity
Display player card on player's lock screen whenever they enter the casino floor so they never forget to use it
Continuously update player cards with new point/rewards balances
The Complete Experience for Players
Player texts a keyword to a code to trigger the registration questions
Player answers a series of questions, such as their name, birthday, zip code, and other relevant information
Player successfully completes the sign-up process and receives a digital player's card and other informational messages
Player receives a link containing their player card
Player clicks on the link from their mobile device
Link detects the type of device to install the card into Apple Wallet or Google Pay
Card gets installed and the player can view it anytime in their Wallet app
Player card is updated with points, offers or player engagement messages as it is used
Check Out a Players Club Enrollment Demo
Text CASINODEMO to 60856
*Msg and Data rates may apply