Our customers use this tool to generate unique image files for each customer. The personalized images include visual elements like rich graphics, unique text and a barcode. These images can be delivered, viewed, and saved to any phone.
Personalized Image Template Builder
Create personalized images in a few steps with the Personalized Image Template Builder. You can preview your personalized image as you work on it.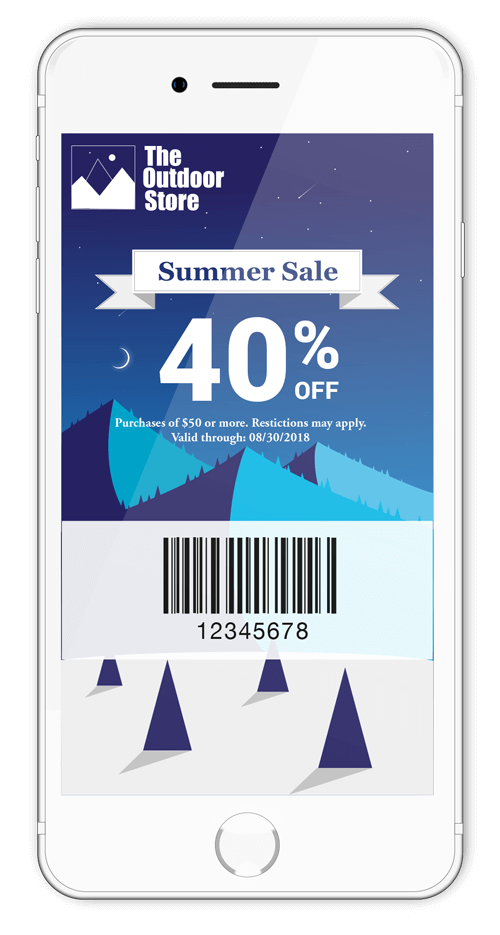 Add a Background Image
Give your personalized image emotion and style with a background image that reflects your offer or company. Fill the entire mobile screen with engaging imagery and put the personalized text areas anywhere you want them to be displayed. You control the entire design of your message. Follow our guidelines to ensure your images look good in a messaging app.
Personalized Text Areas
Add up to 8 personalized text areas. Adding text gives you the ability to display specific customer data in your personalized images. The font, size, color and position can all be adjusted.
Unique Barcode
Overlay a 1D or 2D barcode on your background image to make it transactional. You just give us the barcode value and we will generate the barcode for you.  We support a number of different types of barcode formats.
The barcode options currently available are:
Aztec Code, Code 11, Code 128, Code 39, Data Matrix, EAN, Interleaved 2of5, PDF417, QR Code, UPC-A