Design Digital Cards
Our digital card design tool
Create a digital card for Apple's Passbook® using our Pass builder. Choose from multiple different templates including coupons, store cards, boarding passes and event tickets. Add your own images, labels, and text to each Pass template. You can store them online and update the design anytime. Create Passbook Passes from scratch or use an existing template you have stored. You can design a new Pass and then update all installed Passes to your new design at once.
Create Passbook, Apple Wallet and Android Wallet Objects
Using the same builder tool you can create wallet objects that can be optimized for multiple mobile wallets so you do not have to worry about what type of phone your customers have or how to integrate your offering.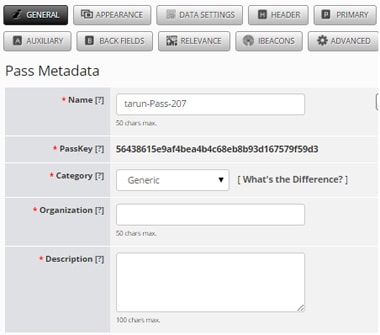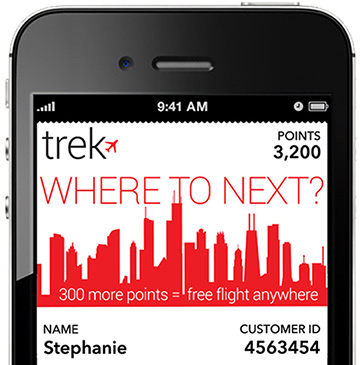 Personalize each digital card
Issue personalized digital cards that are unique to each user. Personalized data can be uploaded via a .CSV/TSV file or passed in the API. The data is stored securely and merged with the digital card template that you created. You can personalize more than just the barcode. The name, photograph, account number, or other data can be unique.
Location enable each offer
Define geofences for each digital card so that when a customer is near a defined location it notifies them on the their phones lock screen. You can have multiple locations defined in each wallet object. You can even define locations unique for each person you issued the wallet object or generic for all.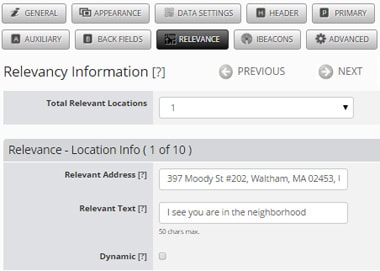 Send Digital Cards to Mobile Wallets
Send digital cards to phones by MMS
MMS is the fastest way to send a digital card and get it in front of your customer. Skycore will perform device detection on the recipient's device prior to the issuance of the digital card via MMS to determine how best to deliver it. Depending on the phone, we will deliver the message in a way that can be installed into the mobile wallet on the phone. The digital card will be fully optimized for installation into Passbook on iPhone or a Passbook emulator (like Passwallet) on Android. We will display an HTML5 version of the Pass on devices that do not support a mobile wallet.
Issue digital cards through a Web Page or API
Issuing a digital card through a mobile App can be accomplished through our API. If you are using a landing page to issue digital cards we will host the landing page and the link to download the digital card. You can use Social Media or QR code to get the download link to your customers phones. Issuing a Pass through a QR Code that has been printed on a receipt or on a paper advertisement is a simple way for consumers to install Passes. When a customer scans or visits the link the browser must do a proper device detection to display the proper format for the mobile wallet on the device.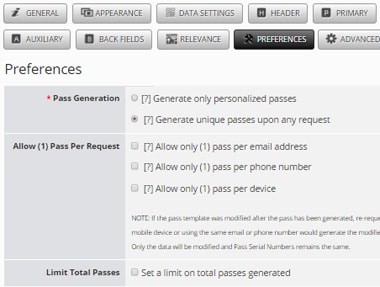 Generate Passbook Passes and Send by Email
We will provide a URL to your digital card for use in your marketing emails. Skycore's passbook generator will generate the Passes automatically when the URL is clicked. Additionally, you can put variables into the URL to personalize the Passbook Pass download for each mail recipient. If the phone is an Android we will deliver the Passbook Pass to Passwallet or format the digital card for another mobile wallet.
Digital Card Personalization
Personalize digital cards with PIN numbers, barcodes, account numbers, names or any dynamic data. Our digital card personalization services also allow you to customize the textual layouts. In some mobile wallets like Passbook we can personalize images in each digital card as well.
The wallet data management console allows you to manage the personlization data within your digital cards and update the information of any installed cards. We offer an API to integrate our mobile wallet data management backend with your own CRM systems. Your digital card data can also be imported or exported by .CSV manually if the API integration is not an option. Our wallet data management API's enable you to update the data in each digital card either before or after it is installed into the mobile wallet.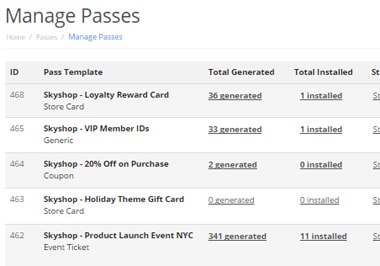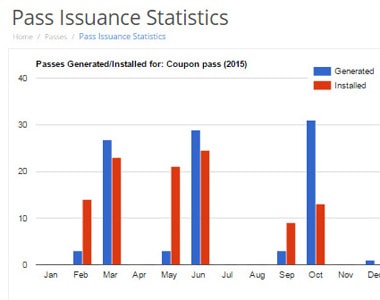 Digital Card Installation Analytics
Our mobile wallet analytics system allows you to get statistics on the number of digital card installs and un-installs over time. You can track the performance of your marketing campaigns that are used to drive installations. You can also track the performance of your wallet marketing campaigns that are used to drive usage of the digital card installed.
Update Cards / Mobile Wallet Marketing
Our mobile wallet marketing service enables you to update installed digital cards in bulk as part of a marketing campaign. The update will be sent to all consumers that have an installed digital card. When scheduling the update, you are given the option to set the time, date, and time zone you would like subscribers to receive it. You can import a CSV file of updates or create a new digital card template and "swap it out" with the installed version.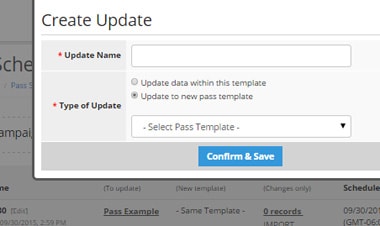 Instant Wallet Updates via an API
Skycore provides an API to integrate your wallet marketing campaigns into your other marketing automation systems. The API allows you to push instant updates to any field in any installed wallet object.
Bulk Wallet Updates via CSV Upload
When scheduling a bulk update for many digital cards at once you will need to provide the data for the update. You can do this by importing a CSV or TSV file into the campaign tool with new data. Once the data is updated you can schedule the bulk update at a specific day and time. You can update a single custom field or multiple fields in the digital cards during the update.
Mobile wallet providers & technology we support
Apple Wallet
Apple's mobile wallet comes installed in iOS devices.  The digital cards that are stored in the Apple Wallet are called Passes.
PassWallet
PassWallet is one of the leading mobile wallets for Android. It supports Pass files for displaying digital cards. PassWallet supports loyalty cards, ID cards, gift cards, and tickets.
Android Pay
The Mobile Wallet designed by Google for Android is called Android Pay. This mobile wallet uses both NFC and barcodes to conduct transactions. (COMING SOON)
Barcodes
Most mobile wallets will display a barcode for scanning.  The barcodes found in most mobile wallets are 2D barcodes. Some mobile wallets also support 1D barcodes.
NFC
Most mobile wallets support "NFC" technology however some mobile phones do not have the hardware to support it. This technology is growing in popularity and should be available widely in the next few years.