SMS Messaging & SMS API's
SMS stands for Short Message Service. An SMS message is a text message that can be sent to mobile device and can include up to 160 characters. SMS texting  can be utilized as a marketing marketing tool by sending bulk sms messages to mobile subscribers. Skycore has been in the mobile marketing business for many years. We offer a simple set of online tools and SMS API's for businesses to communicate with their target audience through mass texting.
We support high throughput scheduled bulk SMS marketing campaigns as well as 2-way SMS interactive conversations for customer engagement or customer data collection.
Skycore has over a decade of experience delivering SMS messaging campaigns. Our SMS messaging platform was designed for SMS marketing campaigns. You can use our online campaign manager or SMS API's to opt-in your customers or employees. Once you have built up your text message marketing subscriber list you can send messages such as mobile text alerts, or promo codes.
Using SMS API for marketing automation, you can link your internal systems to the API for customer notifications and customer engagement. You can also use it for two factor authentication, customer feedback or customer support. Using the SMS API for employee communication you can link your internal systems to the API for employee feedback. Moreover, you can also use it to field data collection, employee training, compliance, two factor authentication, shift changes or emergency notifications.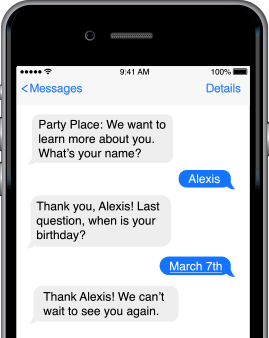 SMS CONCATENATION
Send and Receive long text messages over 160 characters
GLOBAL DELIVERY
Send messages to nearly every country worldwide
SMS SHORT CODES
You can provision dedicated short codes for enterprise to person sms messaging.
MOBILE ORIGINATED SMS
Receive SMS MO (Mobile Originated) from customers or employees mobile phones.
ALPHA-NUMERIC SENDER
For international numbers you can use an Alphanumeric name as the sender instead of a phone number.
UNICODE SMS
Send SMS messages with Emoticons (emojis) and special characters (non-latin character sets)
PRIORITY QUEUE
Two customers sending messages by the SMS API at the same time will not affect each other or cause latency.
ENCRYPTION
All SMS submitted to Skycore are encrypted at rest (queue & history) and in transit.
SMS LONG CODES
You can use long codes to send and receive SMS for 2 way text chat.
DELIVERY REPORTS
Receive message delivery status updates in real-time
Use SMS Keywords to Opt-in your customers
SMS Keywords are short words made of letters and/or numbers that can be sent to a shortcode in order to trigger a response. Keywords normally trigger an opt-in flow, but can also be used as replies from customers who have already opted-in as a response to a question or poll. An MMS Keyword is when a mobile subscriber submits or replies with a picture in addition to a keyword.
Use SMS Keywords to promote your app
SMS Keywords can be used to promote a mobile application offline. When the customer submits the text keyword to a short code we can respond with a link to the app store.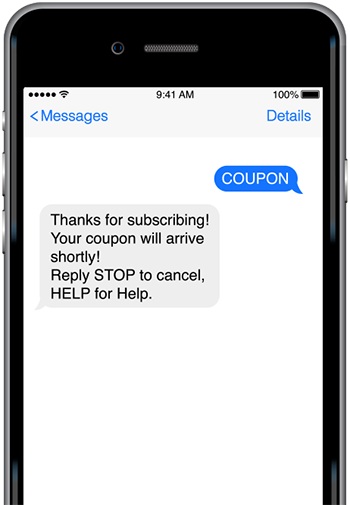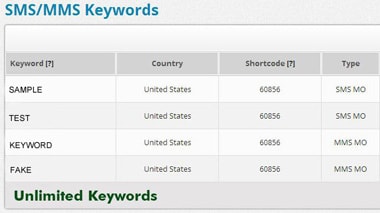 Dedicated Shortcode Keywords vs Shared Shortcode Keywords
The number of SMS keywords allocated to your account depends on your messaging plan and your account type. If you have a dedicated shortcode, then you can create an unlimited number of keywords on your shortcode. If you use a shared shortcode, then you will be allocated a certain number of keywords based on your plan.