MMS marketing messages include multimedia content such as pictures, audio, video, etc. MMS marketing messages can be designed within our platform. Each piece of uploaded content is transcoded into a variety of file sizes, screens sizes and mime types to ensure it is delivered to all compatible devices. We are able to deliver MMS marketing messages to 99% of mobile devices on the market provided we have access to the carrier network. When we cannot deliver the MMS we gracefully send an SMS with a link to the content. The text body of our MMS messages support multiple languages such as English, French, Spanish and Arabic. MMS marketing makes the text messaging conversations between you and your customers more interesting and engaging by adding multimedia. Moreover, it provides a better branding opportunity where content can be saved or watched without opening a browser. Because it is significantly more engaging, the conversion and click through rate of MMS is higher than SMS.  We deliver bulk MMS marketing campaigns at high throughput. You can use our MMS design tool to compose and store  marketing content. You can send the marketing content in a bulk MMS campaign or trigger them individually as a personalized auto-response. We also have MMS API's to trigger and personalize messages from your own system. The MMS marketing content can be promotion codes, videos, barcoded coupons or other multimedia messaging files.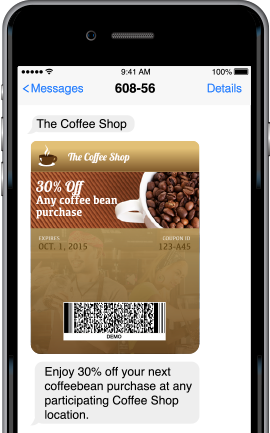 Skycore provides MMS API's for delivering rich media with either custom text or custom image in each message. Personalized mms messaging in high message volumes and throughput requires substantial server infrastructure. Also, it needs bandwidth for delivering a unique piece of rich media content to each phone and transcoding it for the device.
Delivering MMS at high throughput and low latency is essential to the campaign success.  However, it can be a challenge if you do not have specialized infrastructure to do so. It is also a challenge doing proper content transcoding for each recipient device. Skycore has solved these problems and hosts dedicated A2P MMS infrastructure for some of the largest service providers and mobile network operators.
DEVICE DETECTION
We can perform device detection prior to sending the actual MMS content to send the best content possible.
MOBILE ORIGINATED MMS
Receive MMS MO (Mobile Originated) from customers or employees mobile phones through the MMS API.
ALPHA-NUMERIC MMS SENDER
For certain carrier networks you can use an Alphanumeric name as the sender instead of a phone number or short code.
ENCRYPTION
All MMS submitted to Skycore are encrypted in transit (SSL/TLS) and at rest.
MERGE TAGS
Use Merge Tags to replace text content within an MMS with personalized crm data.
UNICODE MMS
Send MMS messages with Emoticons (emojis) and special characters (non-latin character sets).
DELIVERY REPORTS
Receive message delivery status updates in real-time with our MMS API.
PRIORITY QUEUE
Two customers sending messages by the MMS API at the same time will not affect each other or cause latency.
MMS TRANSCODING
We transcode each MMS API request into multiple formats and deliver the format that is optimized for the recipient device.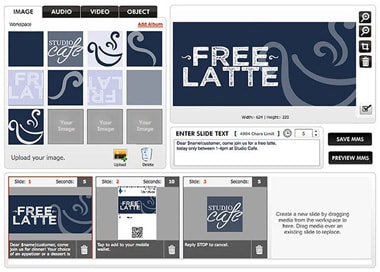 You can use the MMS Composer tool to design rich media MMS messages and save them for later use. Drag and drop content to create mms or to edit the appearance of a previously created multimedia message. Once you have designed your message you can save it so that it can be scheduled for delivery later. We will optimize the saved MMS messages to ensure proper delivery to all recipients. Use merge tags within the MMS text to personalize the message for each recipient. Upload a CSV of your personalized variables linked to the phone number or use the API to pass personalized text. You also may add content that is unique for each delivery.
Use our MMS preview tool to see the MMS templates you have created. Each mobile phone renders the MMS message slightly differently so this tool can give you a preview of what it might look like on various devices. The MMS preview tool supports iPhone, Android, and "Feature Phone" preview options.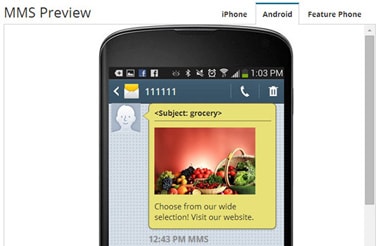 MMS Inbox to receive picture and video messages
The MMS Inbox lets you receive picture submissions or video submissions from customers by MMS and moderate the submitted content online. You can setup an MMS Inbox for picture submission to use a shared short code or dedicated short code for subscribers to submit their content. You can setup text alerts with the autoresponder to let the customer know that the content was received. Common uses for the MMS Inbox are identity verification, photo contests and photo claim submission. We provide you with the tools to review and export the content.
Picture Submission Moderation & Forwarding
We support sending your customers submissions to your server for processing. Sometimes processing needs to happen in real-time, other times it requires batch processing. We support both the real-time API notifications and secure FTP of MMS content in batched intervals..
MMS Inbox for Identity Verification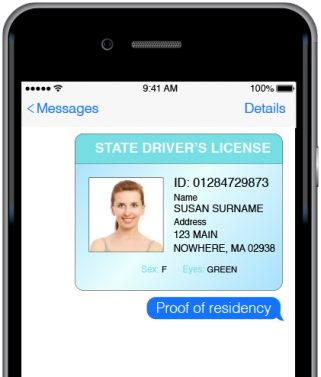 Submitting a photo ID online may be a simple way to perform identity verification the problem is that most people do not have photos of their ID cards on their computer. The process of taking a picture and then transferring it to the computer adds complexity and time to the process. The solution is to use MMS for photo ID verification of a person's identity. Not only can the photo be taken easily but the phone number that comes with the submission can be checked against the account using two factors authentication.
MMS Inbox for Photo Contests
Advertising your photo contest across many marketing channels requires the customer to remember the URL of your photo submission form. By using MMS for photo submission contests you do not need to worry about your customers remembering the URL of your contest. By texting the photo to the short code the customer can submit a photo without visiting a URL. We can also reply back with an SMS that contains a link to the web submission form for further photo submissions.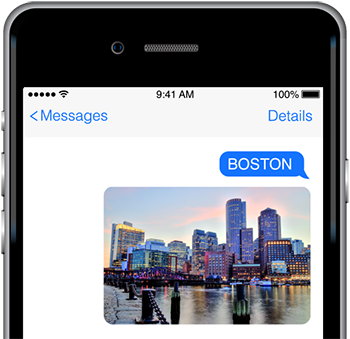 MMS Inbox for Claim Submission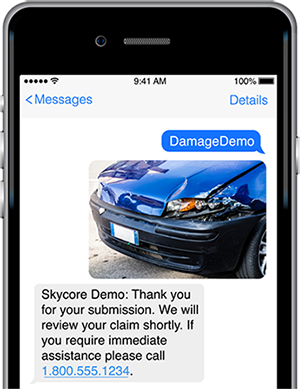 Not every customer wants to download an App in order to submit a claim. In fact, there is often a lot of stress involved during the claim submission process. They also may not have the time or the mental will to download an app and go through the app registration process to identify themselves. Using MMS for claim submission is a simple one step process that requires no training. Everyone knows how to use SMS/MMS already. Identifying the customer is easy using the phone number and the customer does not need to go through a time consuming registration process. All companies who accept claims should have an MMS Inbox setup to receive these messages from customers.