Mobile Marketing Automation
Manage opt-in's with our mobile marketing software
Our mobile marketing software lets you manage all of the people who have opted-in to receive communication from you by text message. You can build your opt-in list using SMS keywords or through opt-in forms on a landing page. Your customers can opt-out by sending a text message with the word STOP or you can opt-out customers through the API or Website. We also have APIs available to keep the status of each subscriber in sync with your own CRM systems. We will ensure that you can only send messages if the customer remains subscribed. If they have unsubscribed we will block the message from being sent. We retain proof of every written consent Opt-in and Opt-out for any future compliance audit.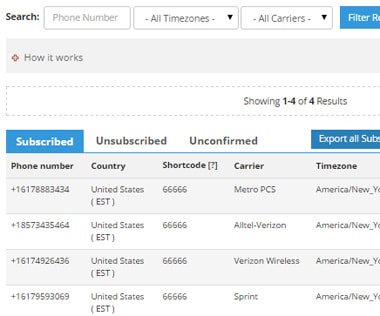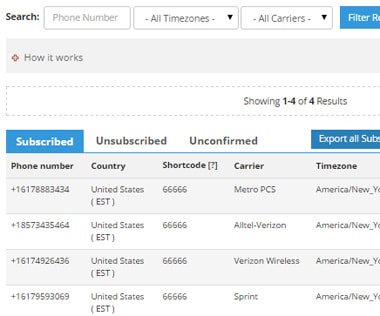 User our mobile marketing automation software to setup automated SMS conversations
The audience manager lets store data about each customer by having  2 way sms conversations and saving their replies. You can start conversations by setting up autoresponders or scheduling mass sms texts where the message is a question and you expect a response. You can also import the customer data into the audience manager by CSV or API. All of the customer data stored in the audience manager can also be used to personalize your messages to subscribers.
Segment, Import and Export your Lists
Filter your SMS opt-in list and export the filtered numbers to create new lists or measure performance. Filters such as opt-in date, mobile carrier, and time zone are available. You can also remove or unsubscribe customers based on a filter.