A dynamic image is a unique image file specifically generated for a particular recipient. Each image can contain rich graphics with personalized text and/or a personalized barcode. A dynamic image is created by merging a background image with a barcode image and writing text within the final image in a pre-defined location. Dynamic images can be delivered, viewed and saved to any phone.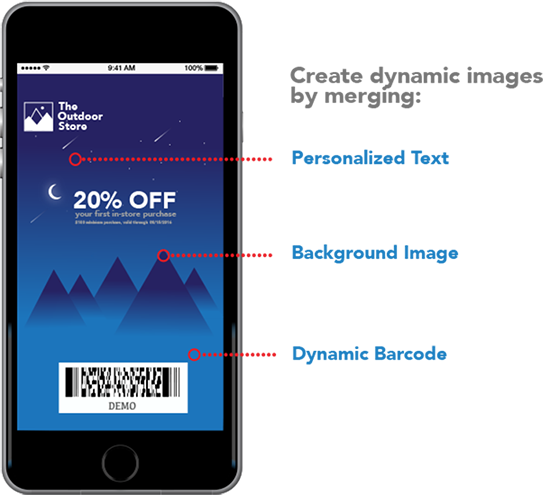 Dynamic Image Template Builder
Create dynamic images in a few steps with the Dynamic Image Template Builder. You can preview your dynamic image on the right side of the page as you work on it.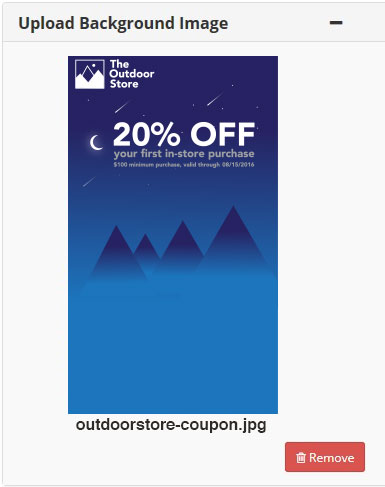 Add a personal touch with a background image of your choosing. First, upload a background image. The max file size of the background image is 200 KB. All images files must be saved in .jpg format. The background image will define the exact height and width of your dynamic image. If your background image is too large, it will be resized down to X by X. We recommend the sizes of the background images to be 640px width by 1138px height.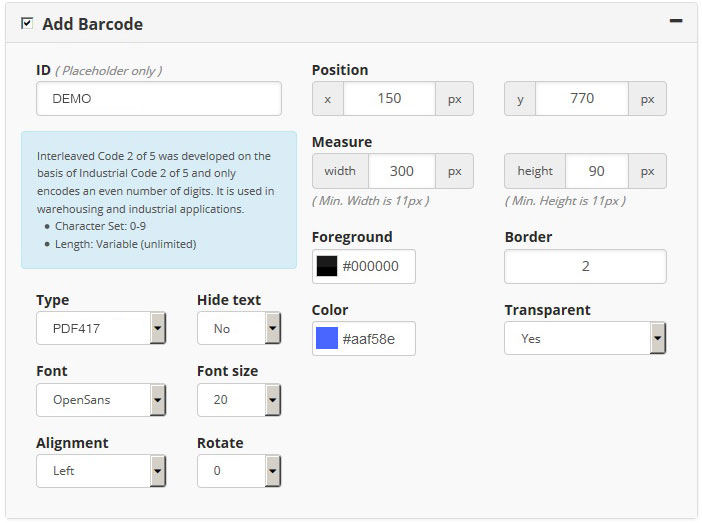 Add an ID to the barcode to serve as a placeholder. This will generate the barcode image and ID on the preview. You can choose between a number of different types of barcodes.
The barcode options currently available are:
Aztec Code, Code 11, Code 128, Code 39, Data Matrix, EAN, Interleaved 2of5, PDF417, QR Code, UPC-A
You can add up to 4 dynamic text areas. Add some text to the text field to serve as a placeholder. Customize your text by defining its font, size, color and position.. The final text value for each recipient will be imported later in the process.