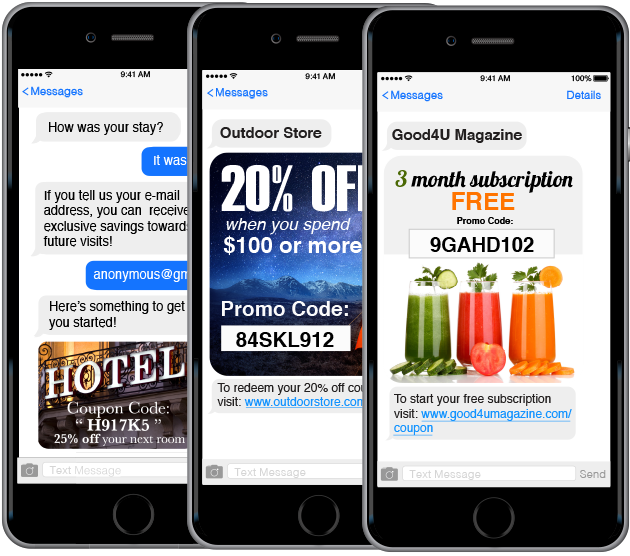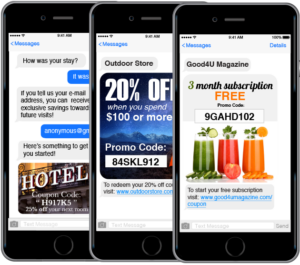 1. MMS works universally on both smartphones and feature phones
SMS and MMS are the most widely available messaging channels today. Both SMS and MMS are delivered into the same inbox. Today they work on both feature phones and smartphones but in a few years, it will also be available on your home phones, TV's and in your car. You do not need to install an application or create an account to benefit from or access an MMS message.
2. MMS allows you to send a rich multimedia experience to your audience.
You can deliver multiple images, audio, or videos within a single message. Today most MMS service providers will resize and adapt this content for the destination device. Video and Audio attachments are often limited in duration based on the network operator and the destination handset. You can generally send 25-30 second of video before reaching the size limits set by the US carriers for message delivery. Any more than 30 seconds and the video quality will be degraded due to lower audio sample rates. Many companies include their logo, product information or coupons.
3. MMS messages are traditionally opened within a few minutes of receipt
As Derek Johnson from Tatango recently pointed out, a common statistic thrown around the industry is that 90% of SMS messages are opened within three minutes of receiving them.  This would imply that the same or greater amount of MMS messages are read within the first three minutes. Why? Because many phones, including the iPhone, pop-up a preview when you are notified that a new message has arrived. It would be safe to assume that having a picture pop-up instead of text would not only speed the original 90% of people viewing of the message but convert some of the 10% who decided to ignore the SMS to review an MMS immediately.
4. MMS marketing can utilize both outbound and inbound communication
Delivering a lot of content to a phone is not the only benefit to MMS messaging. You can reply to an MMS easily, either as an SMS reply or an MMS reply. This  makes MMS a fantastic two way communication mechanism where one party may have more to say than the other. You can have people submit pictures without going through the pain of downloading and installing an application, worrying if the app supports their phone or they will be charged for data. It is also just as quick to submit an MMS message as it is to submit a SMS text message from the inbox.
5. MMS messages can be shared and forwarded by recipients to anyone in their contacts
Any MMS message delivered to you can be shared with your contacts. In fact, you can forward an MMS to multiple recipients at the same time. Selecting a friend from your contacts is probably the most simple and reliable way to share content.
6. MMS messages provide you with device and network information about your audience
When an MMS message is delivered the service provider can extract both device information and network information. Device information can be used to segment your audience by the type of phone they have. Network information can be used to determine their carrier and sometimes other information. Knowing this information often helps define the type of messaging campaign and frequency of messages you should be sending to the subscriber.
7. MMS messages do not require text abbreviations because they can have over 1000 characters
MMS is capable of delivering 1000's of characters of text in a single message. How much can your brand or enterprise really say in 160 characters of text?   You certainly do not need to deliver a novel of text but sending a few hundred characters per communication would be enough room so you do not have to abbreviate anything to get your message across. It also means that each message can contain multiple links to different pages.
8. MMS messages provide delivery receipts which guarantee important messages are delivered
With each MMS message delivered a delivery receipt is returned providing the status of the message. MMS delivery receipts are part of the standard so obtaining a FINAL delivery status for each message is possible no matter which carrier you are on. This does not happen with email communication, social networks or even every SMS message.
9. MMS messages are delivered over the same short code as SMS messages
You do not need to spend money on a new shortcode. Your existing shortcode supports MMS already. You also do not need to start a new Opt-in list. Your existing subscribers that have opt-in on your shortcode can receive their MMS messages on the same shortcode. There are a few steps required to get your shortcode approved for MMS. You simply need to file a new brief with your aggregator. Contrary to what you may have heard, every Tier 1 carrier in the US  supports MMS messaging.
10. MMS messages are relatively inexpensive compared to the benefits
MMS delivery pricing has come way down from the levels it was at just a few years ago. You can now deliver an MMS  message for only a few pennies more than an SMS message. If you are already paying for a short code and/or SMS connectivity then adding MMS to your mix is  a no-brainier.